Residential High Pressure Water Jetting
Whatever the blockage at home, we'll jet away the problem for you!
What jetting is used for? The majority of pipework accumulates silt, grease, scale, debris or other deposits over time. High pressure water jetting is one of the most effective methods of clearing away these common problems, leaving the pipe clean and free flowing. It can be used as a preventative measure to keep pipework functioning correctly, as well as a curative measure to remove blockages. High pressure water jetting can be used on drains of all sizes and types from small household gullies to main line sewers and storm drains.
The pressure of the water at the head of the jetting hose not only cleans the inside of the pipework but also provides propulsion to pull the hose further into the drain. This can be used to remove thick grease blockages, pull silt and debris along pipes for removal at inspection chambers, as well as cutting roots out of drains which have grown in through joints or cracks.
We deliver a top quality service! Our professional team here at UK Drainage can help you with any problem, from one off drain cleaning to pre planned maintenance (PPM) programmes and anything drain related.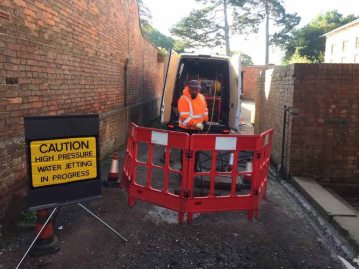 Please contact us any time for advice or further information on 01283 711 550 or email info@ukdrainage.com


Why Choose Us?
We're here to help you 24 hours a day, 7 days a week.
CCTV video recording available to view online at any time.
All of our engineers carry personalised I.D. cards.
Free, no obligation helpline.
OAP discounts available for residential customers.
Excellent reviews on Derbyshire Trusted Trader